Chiang Mai is a very popular destination in the North of Thailand, which is visited by many travellers and digital nomads every year. It is also the second biggest city in Thailand and as such there are many ways that connect it to Bangkok, from buses to trains or even planes. As both me and Davide love travelling by train, we thought that taking a train from Bangkok to Chiang Mai, would have been the best way to travel between the two cities!
Having followed people's advice online, we went to the station to buy our tickets in good time, only to find that we had to book tickets for a train leaving a day later than we previously planned - and even these were the last tickets available!
On the day of the journey, we arrived at Bangkok Bang Sue Station at 8 am as our hotel staff insisted on us arriving 2 hours prior to the departure time, which is no problem for me, but Davide is a last-minute person who does not like waiting around, but we followed hotel staff's advice anyway.
Bang Sue station is an enormous brand new station that opened in 2021 to replace Hua Lamphong station as the central railway hub in Bangkok. It is also called Krung Thep Aphiwat meaning "prosperity of Bangkok" and has 26 platforms, some for commuter trains, some for long-distance and others for future high-speed trains We were quite confused as lots of online sites still have the name of the old station and even our taxi driver kept asking us if we were 100% sure he was taking us to the right station.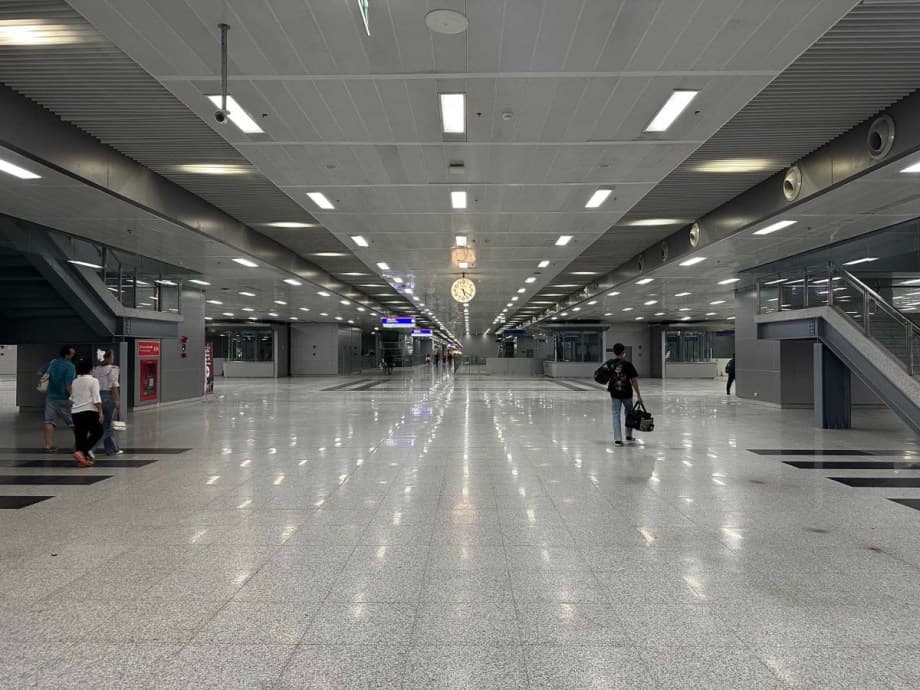 Bang Sue Station, Bangkok
The station's sleek materials, such as glass, stainless steel and concrete walls make you feel you could be in one of the new Jubilee line underground stations in London. You enter on the ground floor and all the platforms are on the two floors above you, so all you see is a huge space full of escalators. You have to have a ticket to access the platform floors and you won't be able to go up until the train guards let you go through the dedicated gates.
As we had to wait for the guards to let us through, we decided to go grab a coffee, as well as some snacks for the journey, not realising how much food and drinks we would be offered on the train. While waiting for our coffee, the National anthem rang out from the speakers throughout the station and we knew we had to stand up and stop what we were doing for the 20 seconds it played - people who are walking stop, people who are sitting down having breakfast, sit up and finish their mouthful. Some people stood up looking at their phones - It's seen as a sign of respect towards the King. Other similar things you should be aware of are:
not talking about the King in a disrespectful manner
no creasing banknotes
not treading on money (think twice when coins fall and roll away from you)
When we walked back to platform, through the concourse we spotted robot ticket machines which roam around and stop to talk to you in thai, probably asking you if you need to buy a ticket. They have their charging points near the main entrance. There are also small blue round stickers on the floor indicating their parking spots.
Only 3 or 4 platforms seemed to be in use at the time we were there, the other escalators all had red and white tape. From what I remember there were no screens at the entrance of each platform, only station staff telling you if you were in the right place. There were multiple trains arriving at our platform which meant lots of people in the waiting area, some backpackers, some people with a lot of luggage and others probably travelling to closer destinations - it was difficult to tell when it was our turn to go through the gate.
At around 9 am, just 10 mins later than expected, our train approached the platform. It was small and made up of only 3 carriages - luckily for us, there was enough space to fit our massive backpacks. As the train slowly chugged out of Bangkok, the scenery changed from urban sprawl to flat land and paddy fields. We passed small villages and temples and spotted a few giant gold Buddhas on the distant hills.
Train from Bang Sue Station to Chiang Mai
A staff member was available for each carriage, offering more food than we could eat and beverages.
Snack: bun with hazelnut-flavoured cream and orange juice or coffee.
Lunch: Panang curry, marinated mackerel, steamed rice, banana chips, and water.
Snack: two packets of cream biscuits and juice/coffee.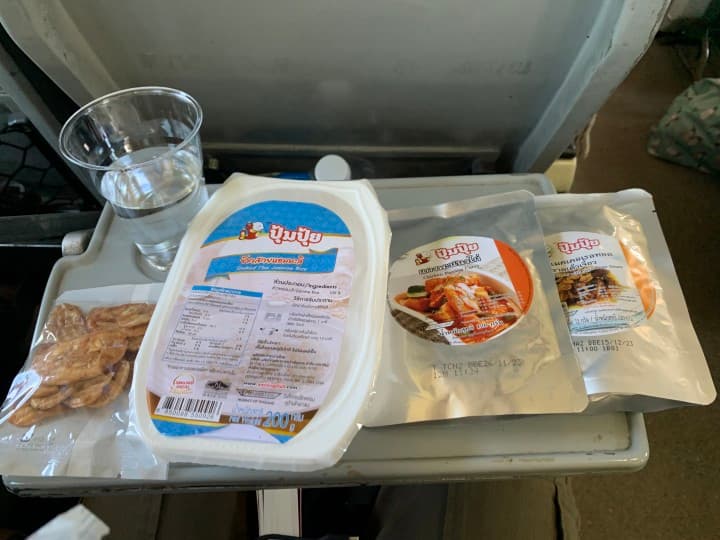 Food on the train from Bangkok to Chiang Mai
There were lots of stops and lots of people getting off with their seats being reoccupied immediately. Despite the beautiful scenery passing by outside, we couldn't really see much from our seats. People had closed the windows and pulled the curtains. Since we had aisle seats, we couldn't get a good look at the views from there. So, the only way was to keep going to the loo! The tiny window in the toilet gave us the best view of the journey and like in an Italian Regionale, you could pull the window down and see the view and even see the rail tracks from the hole in the loo.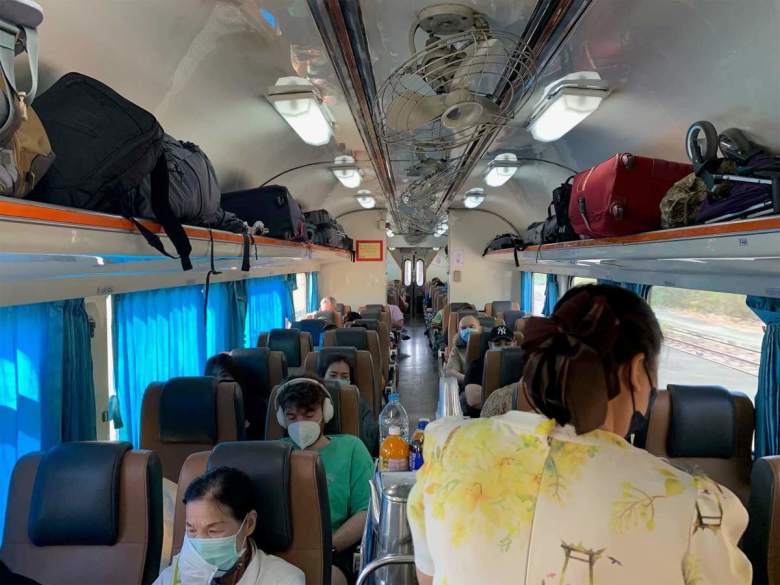 Photo of our carriage on the way to Chiang Mai
At about 3/4 of the way, the train started to climb higher into the hills and we could spot the first bonfires. The air grew heavier as we could smell the smoke coming through the ventilation system.
We got to Chiang Mai Station, small and petite, with flower pots and low roof coverings. The Bangkok tuk-tuks had been replaced by red Songthaew taxis. They are a mix between a shared taxi service and a bus. They are a popular mode of transportation as they are unique and operate all over town and can be flagged down on the street or hired for private trips. They offer a cheap and convenient way to get around the city and have a fixed price of 30 BAHT(£0.70) but if the driver thinks it's too far, they will increase the price.
Within seconds of getting off the train, we were ushered towards a taxi and sat in the back, waiting for others to join us - usually, the drivers like to fit in as many people as possible. One might think this is a stressful ordeal, but in fact, the whole ride to the final destination goes so smoothly, thanks to this organised setup. You can really just sit back and watch as your body and luggage are swiftly carried away. Your mind is a few steps back, watching the whole scene in complete bewilderment.