Both of us have been working from home since Covid started, so March 2020. It wasn't as bad as we thought it might be as we had some amazing housemates who actually made these difficult times a joy. In October 2022 though, it was time to say goodbye to Big Ben and move on.
Craving a change from Europe's familiarity, we needed a deeper understanding of new cultures. And we realised as we had an opportunity, as much as we love London, that we'd rather spend our money on something else than pricey pubs and restaurants. We do realise we are lucky to be in two industries which allow people to work remotely, but there are a lot of options out there one can explore.
Difficulties
We want to soak up the in-and-outs of the area we're staying in as much as possible but it can be difficult when we're not staying very long in one place. Homestays, though, are brilliant for connecting with some locals, providing a better interaction that other accommodations might not.
As we are working full time, we have to make sure we have a reliable connection wherever we go, and this means that sometimes we have to skip visiting the most remote areas, which often are also the most beautiful. We've also met people volunteering for NGOs or small organisations, providing real value to the communities. It is still nice to hear other travellers' stories and experiences, plus it gives us one more reason to come back to Southeast Asia in the future to visit the places we've had to skip this time.
Going back to the Wi-fi, it's a blooming lifeline and we can't do without it! Just like vampires need their blood, we need a fast connection. Thankfully, Southeast Asia hasn't let us down. The few times it's been sketchy, we've found solutions, albeit sometimes in slightly posher, Western-style cafes.
Lastly, as we are trying to avoid flights as much as possible, we have to adjust the journey around the available means of transport on land and use our weekend days as travel days, this is the time when we do not have to work and we can therefore afford to be able to be on a bus or on a train. We often get sleeping trains (or sleeping buses - great fun!) we like it as it allows us to save on the hotel and move about during the week, without necessarily losing a day of work.
Air pollution has been a surprise as we thought it would depend on the size of the cities which we know have a high level of PM2.5, but in fact, it can also depend on the season and have found ourselves hiding from thick smoke for over a week during our stay in Luang Prabang - this was at the end of April at the end of the "Burning Season".
Sweet surprises
Everywhere we look is a feast for the senses, so we are rather baffled by how, when we get down to work, we're actually more focused than we were in London or Italy. We prefer co-working spaces as these are set up specifically, but we can easily adapt to whatever is available.
The opportunities to meet new people are endless, so you're never actually left feeling isolated. There's a good balance, allowing you to get your head down and work on things you've always wanted to and have inspiring conversations with people who live in the area or from other places around the world. Sometimes you go a whole week without really meeting anyone, while other times you click with people in the most random places and you then end up spending meals and nights out together.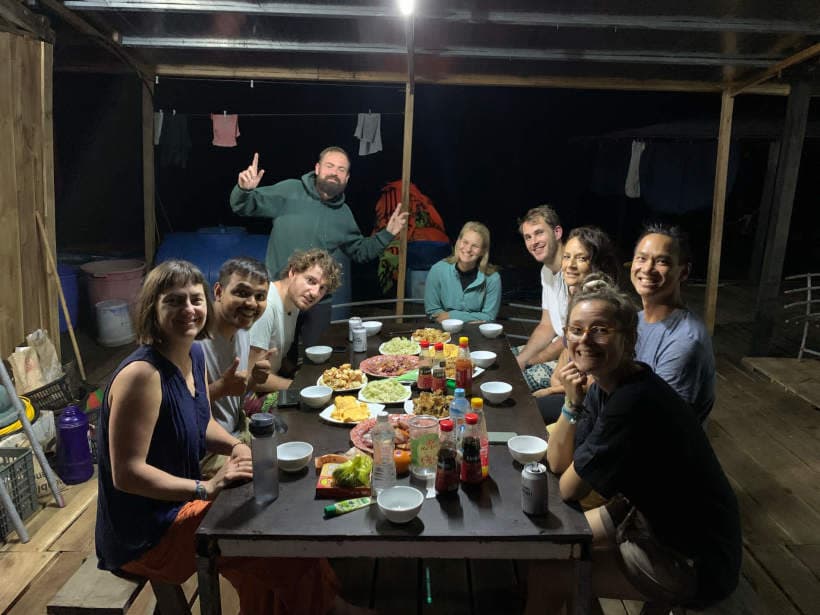 People we met on the floating house we were staying in near Ha Long
Food of course is always a great surprise, we are both big food lovers and we obviously enjoy trying local food. You go to a market and you find dishes you have never heard of or seen before and it's very satisfying when you discover the really delicious ones - we keep on trying different ones and we also try that same food in different places, just so we can compare it and choose which one we like the best! This is a positive thing about staying in one place for longer - we can try out different local places.
Navigating the Red Tape
Visa requirements can be a bit tricky and vary from country to country. Lots of the countries we've been to have started offering E-visas which are fantastic as they are quick and easy. So far, we have managed to get away just fine, although we had to change our plans while visiting Vietnam. We thought we could spend a couple of months there, and extend our visa for an extra month (from the 1-month access they give you to begin. with), but after two endless mornings at the immigration office and a quick visit to a travel agency in Hanoi, we realised that Tourist Visas are not being extended since Covid, so we had to leave the country after a month, which meant skipping the whole of South of Vietnam, as well as squeezing in some of the towns we would have stayed longer in and get a flight, when we would have preferred going by train. So, it's always best to check the most recent updates.
Staying fit or fit-ish anyway!
As mentioned, all the food is delicious and also reasonably healthy. Our weekly dose of cheese, bread, pasta and cured meats was replaced with steamed rice, vegetables, stews and noodle soups. We knew we had to get some sort of exercise and maintain a balanced diet while savouring the local cuisine. Having a kitchenette in some of the places we've been has been great as we have had some wild sign language conversations with sellers at the local markets and the opportunity to get some fresh local fruit and veg we've never tried before. Like lotus fruit - Yum!
For the first part of our journey, we kind of went "with the flow" by trying to get some training in whenever there was a traditional gym nearby, or a Thai Boxing one, or a yoga studio. We quickly realised that this method was not really sustainable as when you move to a new place you never know whether or not there will be a gym or a training centre nearby, and even when there is, you are never sure what kind of equipment you'll be able to find. After 4 months, we decide to download Freeletics and to create a bodyweight training plan, so that we could keep up with it wherever we went. We have to admit it has been SO much easier, as we haven't skipped a day of training since.
We are also trying to get into the habit of meditating and we are using Headspace, which is a great app to use, particularly as Davide has a free plan thanks to his company. Another great tool is of course Youtube, where you can find a ton of material for free. We mainly use it to get in some Yoga sessions with the Yoga with Adrienne channel, a great option if you ask me! We can now put our palms on the floor!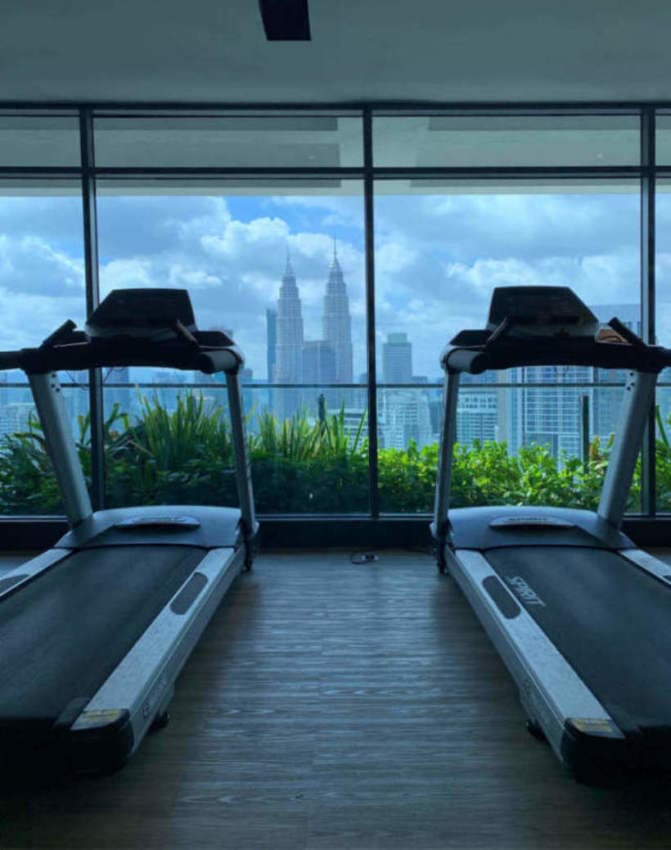 Gym in the place we were staying in Kuala Lumpur or, rather, KL!
Language Barriers
We are not gonna lie - language barriers have cropped up, as I mentioned above, our Italian sign language has come in handy 🤌. We try to learn as many phrases as possible, but sometimes our brains just feel like sieves and the google translate app can ease the situation. How easy has travelling become? Let's just imagine what it must have been like without phones and all the apps which come with them…that was the real adventure. Once Beatrice managed to ask two Grab motorbike drivers to take us to the other side of Ho Chi Minh City and our phones were almost dead.
Connecting Across Countries
To be honest, we don't like social media for various reasons which we won't talk about here, but we thought the easiest way to keep people up to date would be the infamous Gram, which has actually been very useful to keep up to date on what our friends back home are up to, but also follow the new people we meet and see whether our paths meet again. This has happened quite a few times already and it's fun to compare notes on places and experiences.
A journey of lessons
Being complete novices at working whilst travelling, everything has been a learning curve. You automatically start appreciating the details, which really do make your day - I know, it sounds like a real cliche, but it's bloody well true that it's the human connections which make a world of difference. You don't even have to talk the same language to appreciate a funny scene, a smile, or food. We'd also be damned if we didn't talk about how, by just having a rucksack and a device bag you truly feel free (thanks to our parents who have all the rest of our stuff!), but we could honestly live like this for a very long time - who needs all those things anyway?
Another important thing we've learnt is to take everything you hear with a pinch of salt, this should apply to life in general. They are all individual points of view which completely depend on people's personal mood, luck and travel attitude, not necessarily on the country, people and culture.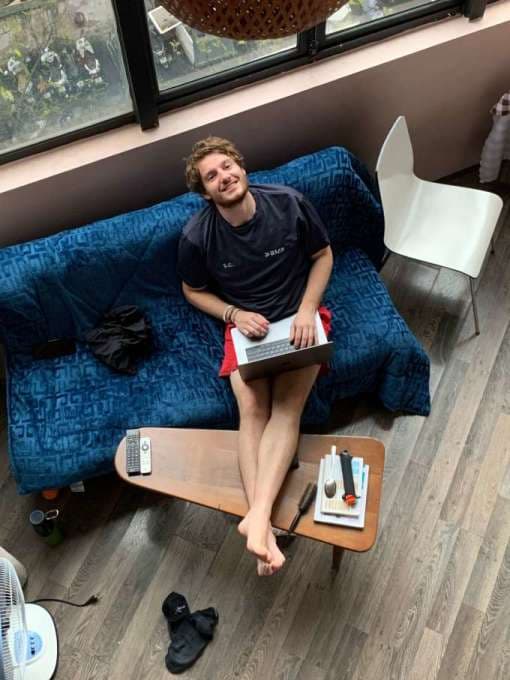 Davide on the sofa in our accommodation in Hanoi
The nomad's backpack
As mentioned, our lives fit into our rucksacks and device bag. We have multipurpose clothing, gadgets and a small med kit. Oh, and a reusable water bottle (with a bacteria-killing filter) - it's a life-saver and eco-friendly. If we knew how good the coffee is in this part of the world we would have packed our keepcup too!
Sometimes it gets tiring to have to unpack and repack your luggage in the span of a couple of days, but we now know how to organise our luggage so that you can find the things you need more often at the top and the things you use sparingly right at the bottom, it works thanks to our travel blocks and the rolling technique and, by the way, we have packed far too much stuff, mainly clothes, but that's a good lesson for the next journey!
Will we carry on with this digital nomad life?
We are enjoying the subtle and sometimes substantial differences between countries, which has just made us more addicted and we are looking forward to exploring more countries, so we don't know where or when this will stop! Maybe never? Moving from one place to another, and therefore from one landscape to another, makes you feel like you live a few different lives in the span of just a few months; one day you find yourself in the middle of the crazy traffic of Hanoi and the day after you are in a floating house, with a bunch of strangers, in the middle of nowhere, surrounded by water. Then you go back to the city and move to a village. It keeps you on your toes and aware of your surroundings, as well as giving you a dose of daily surprises. Shifting from London to Southeast Asia has been a surprising, enlightening journey.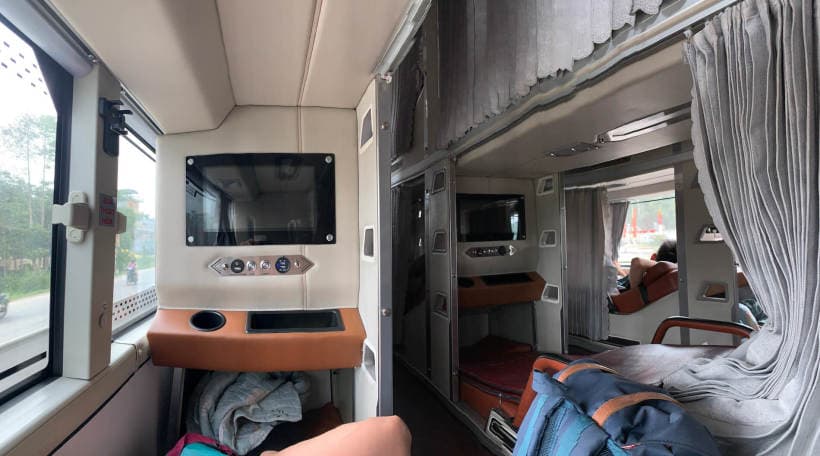 Sleeper bus from Ninh Minh to Hue in Vietnam